Is contraception a sin?
The answer is: contraception is not just an ordinary sin, but a mortal sin. This question wasn't really an issue among Christians until the 20th century (year 1901 and afterwards). Today, the wicked and the ungodly claim that there's no problem with the birth control. Let's think about the topic for a moment! We remember that the end-time people will meet the Antichrist, false prophets and increasing wickedness.
The creation
There was no contraception in the paradise. However, everything started from the paradise where God announced the curse upon the serpent, saying:
15 And I will put enmity between thee and the woman, and between thy seed and her seed; it shall bruise thy head, and thou shalt bruise his heel. (Gen.3:15)
Now it's clear that the devil himself got to know that there will be one who crushes his head. To protect himself, he was against all children being born into the world. Who would like his head being crushed? Nobody. There wasn't more information about who that would be, so every one being born was a threat to the devil. Now that Jesus Christ is in heaven, the devil knows that the world will end one day - he has read the Scriptures. He thinks that by advertising contraception less and less people will inherit the eternal kingdom. He might even think that by attracting people in his ways, the final judgment will not apply - he wishes he can avoid the verdict. Moreover, one should understand that every child is a believer when born, like Lord Jesus has enlightened:
15 And they brought unto him also infants, that he would touch them: but when his disciples saw it, they rebuked them.
16 But Jesus called them unto him, and said, Suffer little children to come unto me, and forbid them not: for of such is the kingdom of God. (Luke 18:15-16)
Powerless god?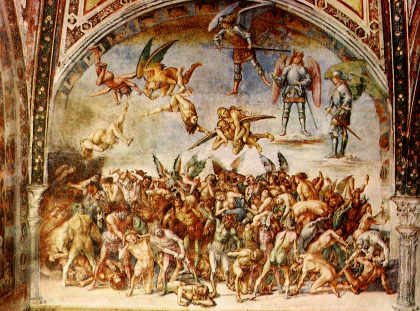 In these last days people are worshiping powerless gods that are made of bronze and wood. These gods don't have any idea about how many children a married couple should have. In addition, these pagan gods don't know what's best for their worshipers. Thus, these people take the rights on their hand: they have to design their family sizes based on their very own knowledge. They might think they believe in God but they confess, although implicitly, that their god is a powerless creature. These wicked people wish to be smarter that the living God. Wicked are their ways and many are following them. Don't they have any idea that this kind of a road goes straight to hell? They might even claim that they don't have money to raise the children, or that they are depressed - there's a great number of excuses.
A gift from God
Children are a gift of God. What does a gift mean to you?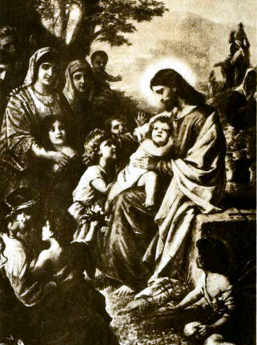 3 Lo, children are an heritage of the Lord: and the fruit of the womb is his reward. (Ps.127:3)
Isn't it something you wish to receive with joy? Is such a thing a gift anymore, if you don't wish to receive it? It becomes a curse instead - an unwanted gift. If Santa Claus is giving you a gift, aren't you happy with it? Understand that a gift from heaven is much more precious than one from the Santa Claus! Children are good examples, they gladly receive the gifts they're given, even if an adult may not always like gathering the temporal stuff. The heavenly Father hands out heavenly gifts, and the one not receiving will surely offend him! If you were giving a present to someone and he just says it's something he doesn't want even before opening it, wouldn't you be also offended? It's like claiming: I know you fool, I don't need your gifts! Birth control is thus a mortal sin.
Early Church opinion on contraception
John Chrysostom (347-407) mentioned that birth control is even worse than a murder (Homilies on Romans 24). Similar was the opinion among the Christians. Even ancient Egyptians had means to perform contraception (The Ebers Papyrus from 1550 BCE and the Kahun Papyrus from 1850 BCE), see the wiki "History of birth control" for more details. In other words, contraceptive methods were present also during the early church - and well before. All church fathers who mentioned the birth control mechanisms, strongly condemned them. Let's look an example from Hippolytus (d.235) as well:
Whence women, reputed believers, began to resort to drugs for producing sterility, and to gird themselves round, so to expel what was being conceived on account of their not wishing to have a child either by a slave or by any paltry fellow, for the sake of their family and excessive wealth. Behold, into how great impiety that lawless one has proceeded, by inculcating adultery and murder at the same time! (Refutation of All Heresies (Book IX))
Almighty God
It's an honor and a source of inexpressible joy that the Almighty God, the living God, the God of Abraham, Isaac and Jacob takes care of his children. There's no need for contraception as He knows better than us the amount of children we're supposed to get. He gives just as many children that's best for us. If someone is worried that there's too many people on Earth - don't fall into this trap - as if this really become an issue some day, the Almighty God can make more room for us upon the planet earth. It's the living God that can perform such miracles. He may enlarge this planet or he can dry up oceans for living purposes - anything is possible. If your god is incapable of doing this, can you really call him almighty?
Maybe you're asking whether it's a sin to use birth control? I wouldn't dare to stand against the creation - that's the work of Satan that started in the Paradise. Don't stand in his flock! He is only deceiving you. Following him is the way to hell.
Contraception and the law
The words "Be fruitful" (Gen.1:28) mean the person who trusts the living God takes all the children that are given. By using birth control mechanisms it's not possible to be fruitful! Accepting only a few children one declares that she/he is partially fruitful - not completely. Likewise, it means the person doesn't love God from all her/his heart!
Birth control, a sign of the end times
The whole idea of not letting the babies to be born is so wicked that the results are detailed in the Psalm 37. Low birth rates lead nations to perish or disappear. Soon, the wicked shall no longer exist:
10 For yet a little while, and the wicked shall not be: yea, thou shalt diligently consider his place, and it shall not be. (Ps. 37:10)
The same Psalm declares: 11 But the meek shall inherit the earth. Think twice over this matter. Are you among the ones disappearing with no offspring at all?
Posted January the 8th, 2018. biblenanalyses.com texts are all public domain free for all to copy and utilize.